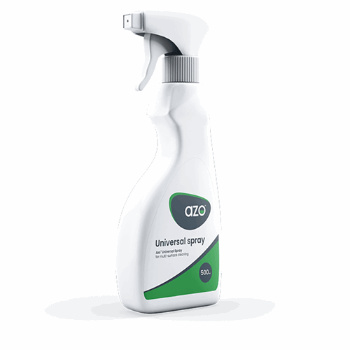 AzoMax Spray
EXISTING CUSTOMERS PLEASE NOTE: Due to the current Coronavirus issues, although our website shows this item as OUT OF STOCK – we do have a large stock that we are reserving for existing customers only. We are simply limiting orders being placed through our website.
Existing customers please email us your requirements and we will fulfil your orders as long as they reflect your previous ordering pattern history. Email: [email protected]
NEW CUSTOMERS PLEASE NOTE: We are prioritising fulfillment of orders to our large number of existing customers. You may still place your orders online, however we may contact you to discuss your requirements and availability.
Byotrol™ technology gives 24 hour active protection against a wide range of micro-organisms and ensures rapid and residual kill – even after the surface has dried. Kills spores, fungus, viruses and bacteria.
FEATURES:
Cleans and disinfects
More cost effective, saves time
Alcohol free - non-hazardous, non-corrosive and non-tainting
Uses Byotrol technology to help eliminate unwanted micro-organisms
Clinically proven
Residual action - remains active even after it has dried
Long lasting - continues to control bacteria, mould and fungi for many days
Complete safety for user