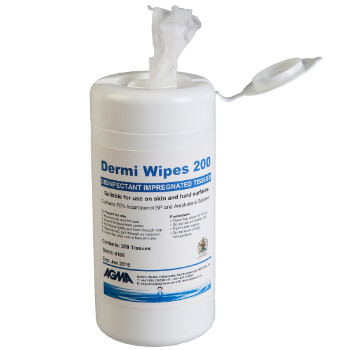 Dermi Disinfectant Wipes
These wipes are a lightweight, small economy wipe and are ideally suited for use on small surfaces where cleansing regimes demand the absence of direct washing water. Each tub contains 200 economy wipes, each measuring 13cm x 13cm, permitting ease of handling and portability. The 32gsm wipes are manufactured from a thermally bonded Polypropylene/viscose blend, and impregnated with 70% IPA.
Wipes are self-dispensing once the first wipes has been drawn from the centre of the roll and fed through the pack top orifice. A foil seal prevents alcohol loss prior to opening.
FEATURES:
32gsm thermally bonded Polypropylene/viscose blend
70% IPA
13cm x 13cm
Self-dispensing wipes
Portable