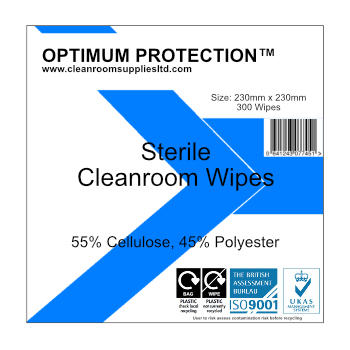 Sterile Clean Room Wipes
Cleanroom Supplies Sterile wipes are a superior quality, ultra low-lint, sterile clean room dry wipe. This fabric blend combines the high absorbent properties of natural fibre along with the cleanliness and strength of synthetic material. Manufactured from a cellulose/polyester blend, and then Gamma iradiated to 10-6. Very good absorbancy. Not recommended for abrasive use.
For more details download the Technical Data Sheet
Click on the Video tab to see the most effective way to use the dry wipe.
NON-STERILE cellulose/polyester wipes also available - CLICK HERE
Learn more about Gamma Irradiation
SPECIFICATION:
55% Cellulose 45% Polyester
Weight = 68 grams per m2
Wipe Size = 23cm x 23cm (9" x9")
300 Wipes per pack (Available in Cartons of 10 Packs)
Suitable for ISO Class 6-8 clean rooms (FED 1000 to 100,000).
FEATURES:
Absorbs and retains solvents and chemicals
Superb wet strength
Ultra Low Lint
Soft Texture
Anti-abrasive
Single Bagged
A detailed description of the most effective way to use a dry wipe: