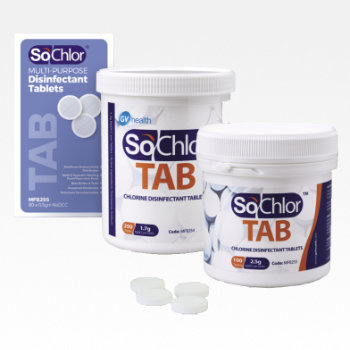 Chlorine Disinfectant Tablets
Chlorine release tablets (Sodium Dichloroisocyanurate/Troclosene Sodium) are used to deliver the correct and exact strength chlorine solutions for disinfection of blood spills and surfaces in a high risk area. Because the chlorine based solution is made up on-the-spot as required there are no transportation, storage or contamination issues normally associated with hazardous and naturally unstable hypochlorite solutions. Chlorine tablets are stable, compact and easy to store for longer periods until required.
For more information and dilution guide, see our technical data sheet.

Applications
Biohazard Disinfection
Environmental and Surface Disinfection
Instruments and Equipment