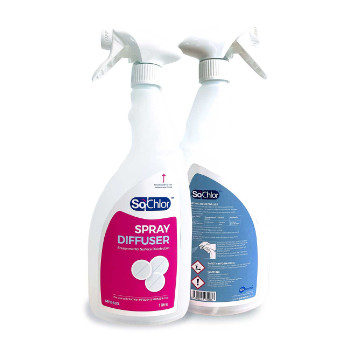 Chlorine Tablet Trigger Spray Bottles
These 1 litre spray diffusers are exclusively designed for the dilution and application of our Chlorine-based tablet disinfectants. The diluted liquid is delivered as a fine spray to provide fast, economical and effective environmental disinfection. High quality, refillable diffuser bottles are engineered to deliver many thousands of hours of fault free spray with minimal blockages and drips.
Non-vaporising spray (Gross Droplets) cap provides safe and easy application of solutions up to 2,000ppm. Only compatible with Chlorine-based NaDCC Disinfectant Tablets.