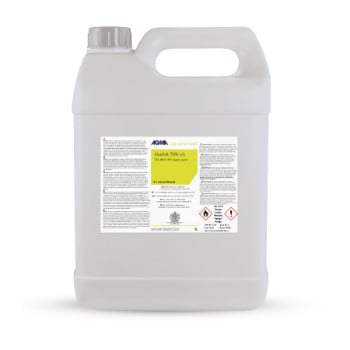 70% Isopropanol Alcohol - 5 Litres
Our 70/30 IPA alcohol has many uses and is manufactured to the highest standard. In the cleanroom setting, alcohol disinfectants refer to two chemical compounds, denatured ethyl alcohol (DE) and isopropyl alcohol (IPA) also referred to as isopropanol. IPA and DE are broad spectrum antimicrobial and are rapidly bactericidal, fungicidal and viricidal, killing most bacteria within five minutes of exposure.
See our guide : Which IPA Should I Use ?
For full details, download the SDS Sheet from the SDS tab above.
For IPA Specification download the Technical Sheet from the Technical Tab above.
DELIVERY INFORMATION:

Please note that due to the Transportation of Dangerous Goods Act, this item incurs an additional cost for hazardous materials handling. This is unavoidable as the law requires special handling. We are aware that some companies are shipping these products in plain packaging in order that they can ship at standard costs. As a responsible Company we will not do this. If your order includes other items, they may be sent by DHL on a next day service and this item will follow. In order to reduce the cost of carriage on Hazardous Goods, we dispatch 5L bottles of IPA on a weekly basis by our own transport to ensure safety and reliability. If your order is more urgent, please call to discuss what other options are available.
FURTHER INFORMATION:
Discover the difference between DE and IPA alcohol here.
USES:
Cleanroom use and laboratory use as an Antiseptic and antibacterial agent
Cleaning and de-greasing electrical and PC components and for cleaning CPUs and PCBs
Cleaning Monitors, TV's and Flat Panels
Removing sticky labels and glue
A disinfectant for food preparation surfaces, table tops,
counters, bars and other hard surfaces
A general cleaner, oils, dirt, food stains etc. Evaporates quickly and leaves the surface squeaky clean.
A specialist cleaner - for computer equipment, electronic devices, contact pins, floppy disk drive heads, lenses of LASERS on optical disc drives (DVD CD), removes thermal paste off CPUs. Cleans printer heads
including Thermal Transfer.
A steriliser - For sterilising hands when preparing food or for medical personnel working in surgeries, clinics, First Aid rooms, Nursing Homes, Hospitals etc.
Sterilising utensils, equipment etc, eg acupuncturists needles, hairdressers combs etc.
An anti-foamer and foam inhibitor.
A solvent for diluting lacquers, PVC adhesives, dyes and printing inks.
A graffiti remover for removing inks, markers, lipstick etc.
Cosmetics - hand lotions, deodorants, aftershaves