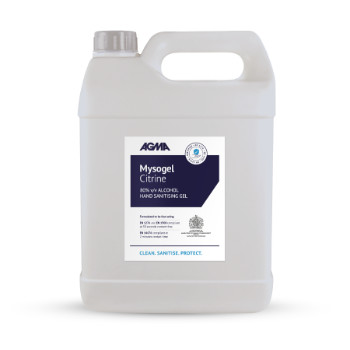 Professional Hand Sanitising Gel - 5L Refill
This professional hand sanitising gel provides anti-bacterial effectiveness for hygienic disinfection of physically clean hands. 5L (4.5Kg) refill bottle of 72% alcohol (62% Denatured Ethanol and 10% Isopropanol) moisturising hand sanitising gel contains added glycerine to leave hands soft and moisturised, for use in refillable containers and dispensers. Complies with UK government requirements for infection control programmes in Hospitals, Nursing Homes, Emergency Services, Food Area, Schools Nurseries, etc.
To use, make sure hand are visibly clean and dry. Use at least half a teaspoon of gel (approx 3ml) in the palm of the hand. Rub vigorously over palms, between fingers and back of hands, ensuring complete coverage, until dry. Repeat if necessary. Do not rinse.
Conforms to BS EN 1500:1997 - Chemical disinfectants and antiseptics. Hygienic handrub.
Unscented.