Those who understand the importance of maintaining a sterile work environment understand the risk of contamination. It is essential to use the appropriate sterile garments within your cleanroom gowning. Browse our selection of sterile garments; from sterile gloves to sterile overboots and wipes. Sterilisation certification available.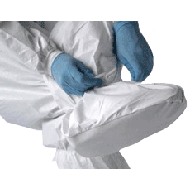 BIOCLEAN-D Sterile Anti-Slip Sole Cleanroom Overboots

Anti-slip sterile disposable overboot made from breathable microporous material. Anti- static & lint-free. Resistant to chemical splash. Free UK Next Day.


BIOCLEAN-D Sterile 5&6 Disposable Cleanroom Coveralls

Sterile Type 5 & 6 Cat III disposable cleanroom coveralls. Lint-free, liquid resistant, anti-static, breathable, material. Free UK Delivery. Buy Today.