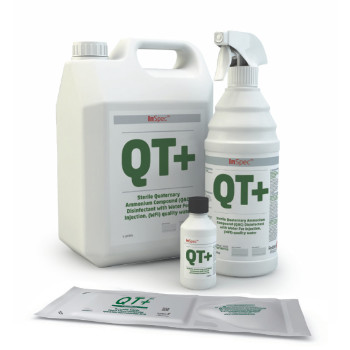 InSpec QT+ Biocide - Sterile
Inspec™ QT+ is a formulated Quaternary Ammonium Compound-based disinfectant, which is designed for spraying, mopping and wiping applications. The active ingredient is 0.12% concentration RTU (Ready to Use). Application of this solution, when used as directed, will not affect materials normally encountered in a cleanroom.
This biocide is both bactericidal and fungicidal, and non-oxidising. Supplied double-bagged to enable rapid cleanroom transfer, it is ideal for rotational cleaning. Works well as a rotational partner for Inspec™ HA and OX products.
InSpec™ QT+ is manufactured in accordance with GMP in an ISO 6 cleanroom. The product is filled and capped in an ISO class 5 environment. The solution is filtered through a 0.2 micron filter and gamma irradiated via a validated process (at 25-45kGy) providing a sterility assurance level SAL of 10-6.
All products are supplied with Certificates of Conformity, Analysis, Irradiation Sterility and Endotoxin. All formats of QT+ have a stabilised 24 month shelf life.
Please note: the trigger sprays are 900ml of solution supplied in a 1L container.
Features:
Non-oxidising biocide
Bactericidal and fungicidal
Low residue
Validated 3-month "in-use" shelf-life
1L and 5L formats manufactured with WFI quality water
Double-bagged to enable rapid cleanroom transfer
Ideal rotational partner for Inspec™ HA and OX