Asbestos Removal & Contamination Control
With asbestos only completely banned in the UK in 1999, the amount of the material used in construction across the country is still extremely high and asbestos removal remains a significant industry.
Risk Management in Asbestos Removal
Under the European Council Directive 83/477/EEC, companies working with asbestos must begin by carrying out a comprehensive risk assessment and establishing the preventive measures they will use. Training, information, supervision, safe systems of work, and appropriate equipment (including respiratory equipment, coveralls, gloves and safety boots) must be provided.
What Constitutes Proper Personal Protective Equipment?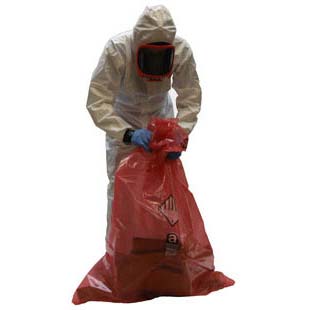 At Cleanroom Supplies we're asked that question many times every day, and of course the answer varies substantially according to what you're working with and where you're working with it.

However, drawing on our own experience and on research carried out by groups like the Asbestos Disease Awareness Organisation (ADAO) and the Health & Safety Executive, we've assembled a guide to suitable asbestos removal disposables - cartridge filters, face masks, warning labels, waste sacks, wipes and type 5 and 6 coveralls.

Your specific working conditions may still affect exactly what you need, however, and we're keen to help you with that; if what you need to know isn't covered in our asbestos training video or if you just want to be sure that your chosen preventive measures are enough to keep your team properly safe, just get in touch.

We work hard to stay on top of developments and to make sure all our customers are outfitted with equipment matching their needs.