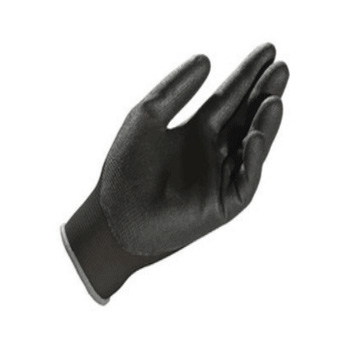 PU Coated Nylon Gloves
A 13 gauge, medium weight, machine knitted glove with a 100% nylon seamless construction. Includes a tough and durable polyurethane coating on the front face. Excellent dexterity and grip combined with improved mechanical protection. Tested in accordance with EN 388.
Gloves should be stored in a cool, dry environment in the original packaging and out of direct sunlight.
For full details download the Technical Data Sheet
CLASSIFICATION:
EN 388:2003
Abrasion Resistance: Level 4
Blade Cut Resistance: Level 1
Tear Resistance: Level 2
Puncture Resistance: Level 1
FEATURES:
100% Nylon
Polyurethane Coating
Tough and Durable
Lightweight
Breathable
Durable
Available In Black
DELIVERY:
ORDER 8 PAIRS FOR FREE UK NEXT DAY DELIVERY See terms
PRICES:
Equivalent price per pair: £0.88
PU Coated Nylon Gloves (10 pairs): £ 8.75