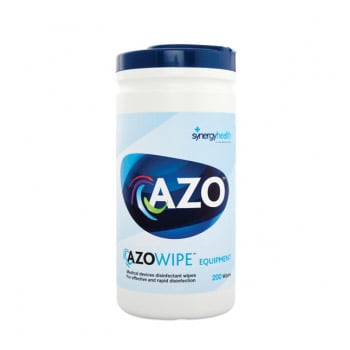 Sterile Azo Wipes
EXISTING CUSTOMERS PLEASE NOTE: Due to the current Coronavirus issues, although our website shows this item as OUT OF STOCK – we do have a large stock that we are reserving for existing customers only. We are simply limiting orders being placed through our website.
Existing customers please email us your requirements and we will fulfil your orders as long as they reflect your previous ordering pattern history. Email: [email protected]
NEW CUSTOMERS PLEASE NOTE: We are prioritising fulfillment of orders to our large number of existing customers. You may still place your orders online, however we may contact you to discuss your requirements and availability.
We are not currently delivering to domestic addresses. Stock is being conserved for medical related front line services.
AZOWIPE has been the leading product of its type for 30 years. AZOWIPE is convenient for use in all clinical environments.
These Azo Wipes have been sterilised by Gamma irradiation. This simple, proven process is safe, reliable, and highly effective at treating single-use medical devices. With the ability to penetrate products while sealed in their final packaging ensures full sterility of the product.
For full details download the Technical Data Sheet
Learn more about Gamma Irradiation
FEATURES:
Extremely Fast Contact Times from 15 Seconds
Strong and Durable
Non-Smearing
Low Linting
Double Bagged for Protection