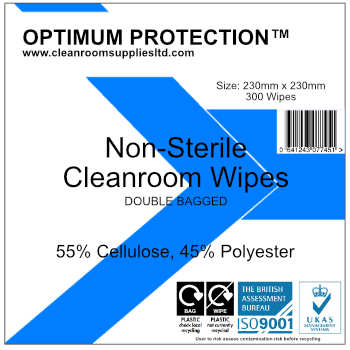 Non-Sterile Clean Room Wipes
Cleanroom Supplies Non-Sterile wipes are a superior quality, ultra low lint, non-sterile clean room dry wipe. This fabric blend combines the high absorbent properties of natural fibre along with the cleanliness and strength of synthetic material. Manufactured from a cellulose/polyester blend. Very good absorbency. Not recommended for abrasive use.
For more details download the Technical Data Sheet
STERILE cellulose/polyester wipes also available - CLICK HERE
Click on the Video tab to see the most effective way to use the dry wipe.
SPECIFICATION:
55% Cellulose 45% Polyester
Weight = 68 grams per m2
Wipe Size = 23cm x 23cm (9" x9")
300 Wipes per pack (Available in Cartons of 10 Packs)
Suitable for ISO Class 6-8 clean rooms (FED 1000 to 100,000).
FEATURES:
Absorbs and retains solvents and chemicals
Superb wet strength
Ultra Low Lint
Soft Texture
Anti-abrasive
Double Bagged
A detailed description of the most effective way to use a dry wipe: