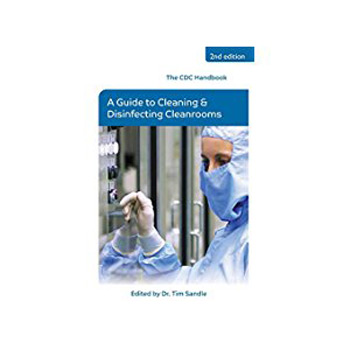 Cleanroom Cleaning and Disinfection Guide - Author: Dr Tim Sandle
If you are one of our existing customers - you may receive a copy free SEE DETAILS HERE
The Cleaning and Disinfection handbook is aimed at those working within the pharmaceutical and healthcare sectors around the world, as well as providing valuable information for students and for the general reader.
The book provides comprehensive detail on different types of disinfectants and their modes of action; explains the problems of microbial destruction and resistance; introduces cleaning techniques and the latest safety regulations; expounds upon the application of cleaning within healthcare and pharmaceutical environments, noting current national and international standards. The book also provides guidance on disinfectant efficacy testing.
Assembled by expert practitioners, the book balances theoretical concepts with sound practical advice, and is likely to become the definitive text on keeping contamination in control within clean areas and controlled environments. With this second edition, the book is fully updated in line with the latest standards and regulations.
Dr.Tim Sandle is the Head of Microbiology at Bio Products Laboratory Limited (a pharmaceutical organization). Dr. Sandle is a chartered biologist (Society for Biology) and holds a first class honors degree in Applied Biology; a Masters degree in education; and obtained his doctorate from Keele University. He has over twenty-five years experience of designing and operating a range of microbiological tests (including sterility testing, endotoxin LAL methodlogy, microbial enumeration, environmental monitoring, particle counting, bioburden, isolators and water testing). In addition, Dr. Sandle is experienced in microbiological and quality batch review, microbiological investigation and policy development.
Dr. Sandle is an honorary consultant with the School of Pharmacy and Pharmaceutical Sciences, University of Manchester and is a tutor for the university's pharmaceutical microbiology MSc course. Dr. Sandle serves on several national and international committees relating to pharmaceutical microbiology and cleanroom contamination control (including the ISO cleanroom standards). He is chairman of the Pharmig LAL action group and serves on the Blood Service cleaning and disinfection committee. He has written over two hundred book chapters, peer reviewed papers and technical articles relating to microbiology; and delivered papers to over forty conferences.