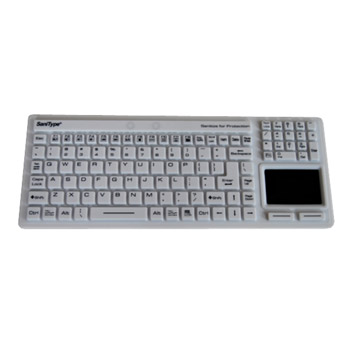 Cleanroom Keyboard - Silicone
Manufactured with waterproof technology and infused silicone for antimicrobial protection of the keyboard surface. The keyboard is washable and protected, featuring LED backlight. It can be easily disconnected from the desktop for cleaning. Features a full alpha/numeric flexible keyboard with full numeric keypad in a small form factor footprint; UV reinforced keys; and LED backlight technology which is ideal for low light conditions. The keyboard is fully submersible; Dishwasher Safe; has a 24k Gold-plated USB Connector to prevent corrosion and is manufactured to IP-68 standards.
Ideal for cleanroom industries.
FEATURES:
Washable
LED backlight
Easily disconnected for cleaning
Manufactured to IP-68 standards
PRICES:
£157.00 Each
Discounts available for large quantities - please enquire.