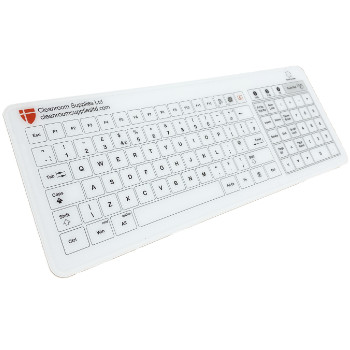 Hygienic Glass Keyboard
Our glass keyboards are designed with you and your safety in mind. The anti-bacterial keyboard can be sterilised by various kinds of disinfectant and is waterproof in order to make it easier for you to stay safe and germ-free at work. This is especially suitable for sterile surgeries or laboratories where keeping things clean is vitally important. This is also why our keyboards can be used with medical gloves or even wet hands. The sleek design of the glass keyboard fits perfectly within the modern office and the lack of crevices and gaps between keys also help keep your keyboard clean. With a simple keyboard shortcut, the wipeable keyboard also functions as a mouse touchpad meaning all your desktop needs are met with one simple device. With its LED backlight, not only does our hygienic keyboard look great, it is also suitable for low light environments, making it the perfect keyboard for laboratory and cleanroom environments.
What makes the Glass Keyboard so different to traditional keyboards?
Our clean wipe glass keyboard is a brilliant way to keep your office as germ free as possible. Unlike traditional plastic keyboards which have various crevices, our wipeable keyboard has the minimal number of gaps to allow you to completely sanitise your keyboard without damaging the hardware inside.
Why is a clean-wipe keyboard so important?
When you're at work- whether that is in an office, doctors' surgery or laboratory - people are constantly touching phones, screens and especially keyboards. It is one of the highest contact areas in the modern office and can be used by multiple different people several times a day. In the wake of the COVID-19 pandemic we have seen how important it is to disinfect surfaces that people touch a lot, or that many people touch. Our glass keyboards are designed with one goal in mind- the create a fully hygienic and sterile keyboard that can be repeatedly disinfected with various sprays and sanitisers without damaging the internal workings of the device.
Who can use it?
Our anti-bacterial and anti-viral keyboard is suited to any environment, up to and including cleanrooms, laboratories, sterile offices as well as any home office. The keyboard has both Bluetooth and WiFi connectivity options (as well as the traditional cable) that creates a neat and tidy ergonomic work environment.
Hygienic Glass Keyboard Details & Specification:
Manufactured with waterproof technology and smooth, hygienic glass surface. No crevices and simple to wipe down and disinfect. No need for a cable with either Wifi or Bluetooth connectivity. Cable is supplied too.
The keyboard is protected to IP67 water and dust protection. Features a full alpha/numeric keyboard with full numeric keypad. With a simple keyboard shot cut, the numerical pad becomes a mouse touch pad. LED backlight technology which is ideal for low light conditions. The keyboard is ideal for medical, dental, laboratory and cleanroom environment.
FEATURES:
IP67 water and dust protection

Wireless 2.4GHz - utilising Bluetooth Version 4.0

Bluetooth

USB 2.0

Tempered Glass + Rugged ABS Case Medical White Three modes (Bluetooth, RF 2.4G, and USB)

Haptic or audible feedback option when typing

Supports control of 3 devices simultaneously.

Very comfortable and light typing keys

Plug and play. Easy to install, no drivers needed

Can be used with medical gloves and wet fingers

With touchpad support Multi-gesture control

Dedicated Clean Key stops input while cleaning

Compatibility Windows, Android, mac OS system

4000mAh Built-in lithium battery

Suitable for all kinds of disinfectants and bactericides
Discounts available for large quantities.
If you need support or have any questions for us about this product, please contact us here or give us a call at 01768 896 800
Jason Botts DDS


I am a dentist in the US who owns his own clinic. I bought the glass keyboards for better infection control as they are seamless and can be directly wiped down with disinfectant. It also eliminates the use of barriers and gives a cleaner look to the room. We have tried a few different versions of liquid resistant keyboards but my staff never really took to them. My staff loves the glass keyboards. They are very touch responsive and they also like the audible and haptic feedback. The wireless features are also useful as they are moved from one counter to another very frequently. The inclusion of a built in track pad is also handy to eliminate the mouse, and the cleaning button is great to allow the keyboard to be cleaned without entering extraneous data. One thing I would like to see is maybe a firmware update where you don't have to hold that button down quite as long to enter and exit cleaning mode. I am overall very happy with the purchase. I would say they were worth paying the premium for. They seem to be sturdily built and I feel they will stand the test of time for ROI.

Cleanroom Supplies has given excellent customer service and speedy shipping even in a pandemic! They took care of me expediently when one of the five I ordered had a glitch and replaced it at no cost to me. I would recommend this product and company.



5/5
Cleanroom Supplies

Thank you for the great review Jason, much appreciate you taking a few minutes to do that. We're happy that you and your team are enjoying using the product. We also appreciate your constructive feedback on the cleaning button time-out. We will definitely disuss this with the factory to see if this feature can be improved. The keyboards are great and so hygienic too - no more sticky keys! Enjoy, and please share the love. Alice.