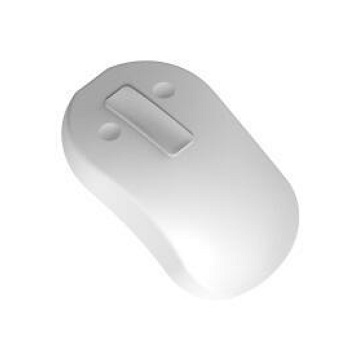 Cleanroom Mouse - Wireless 2.4 GHz / Bluetooth 4.0 Connectivity.
Ergonomically designed medical grade IP68 water and dust proof mouse.Durable silicone rubber surface. Captivity central touch sensor to act as scroll function with 2 standard left key and right key functions.
Includes wireless desktop charging point with USB power supply and silicone IP rated cover. The mouse has an antimicrobial coating on the surface to prevent microbial infestation. Easy to clean with all common cleanroom and medical cleaning solutions, without risk of damage.

The included USB dongle makes it easy to install without the need for any drivers.
Supplied with a 1 year limited warranty, and CE, FCC and ROHS approvals.
FEATURES:
IP67 water and dust protection

Wireless 2.4GHz connection / Bluetooth connection (Version 4.0)

Very comfortable ergonomic design

Plug and play. Easy to install, no drivers needed.

Can be used with medical gloves and wet fingers.

Compatibility Windows, Android, mac OS system.

450 mAh Built-in lithium battery.

Dimensions: 113cm x 70cm x 38.5cm

Approximate Working time of battery: Stanby - 6 months / WorkingTime - 1 month / Charging Time - 3 hours.

Battery life cycles : 500 cycles