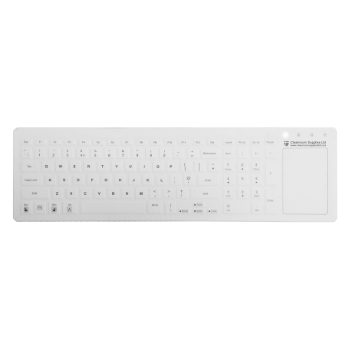 Cleanroom Keyboard - Silicone
A hygienic keyboard manufactured with waterproof technology. The keyboard is fully sealed, making it dishwasher safe and fully protected. Connects to your computer using a 2m USB cable, so it is easy to disconnect for cleaning. Features a full alpha-numeric keyboard with full numeric keypad and an integrated touchpad. 100% silicone with ABS housing.
IP68 water and dust protection. Can be cleaned using soapy water, disinfectants or other cleaning agents.
Ideal for cleanroom environments.
FEATURES:
Dishwasher safe
Easily disconnected for cleaning
Manufactured to IP-67 standards
Jamie


Very impressed with the Silicone Keyboard. Bought one of these for personal use. The keyboard its self doesn't slow you down while typing, the sensation of pressing the keys replicates a normal keyboard but with added benefits! Also the Touchpad is the best touchpad i have used so far, very responsive. Not the kind where you can't control it, its super easy to control! Would definitely recommend this product if you're prone to spilling/making a mess around your computer!



5/5

Cleanroom Supplies

Thank you for the great review Jamie, much appreciate you taking a few minutes to do that. The keyboards are great and so hygienic too - no more sticky keys! Enjoy, and please share the love. Mike.