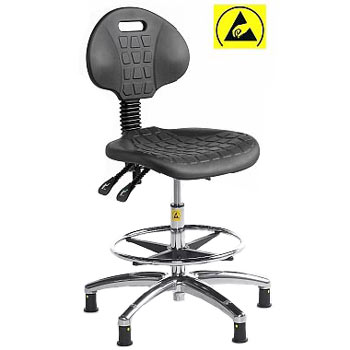 ESD Solid Polyurethane Clean Room Chair
A durable cleanroom chair constructed with a cushioned polyurethane seat and back that can be washed or steam cleaned. Ideal for cleanroom, laboratory, food and medical industries. These factory chairs are fully ergonomic with a tilting back mechanism and tilting seat.
ESD chair specifically designed and manufactured for use in the electronics and electrical industries. This range prevents the build-up of static electricity by dissipating it directly to earth. The chairs are totally ergonomic with a tilting seat and fully adjustable back mechanism. With a washable polyurethane seat and back rest this chair is ideal for use in clean rooms, labs etc.
Compliant with European Standard classification. Suitable for use in static controlled environments.
FEATURES:
• Chrome Base
• High Chair Includes Chrome Foot Rest
• Back Rest and Rake Adjustment
• Lever Gas Lift
• Height Adjustment 410 mm to 535 (Low Chair - For Desk Use)
• Height Adjustment 550mm to 780mm (High Chair – For Bench Use)
• Choice of Glide Feet or Castors