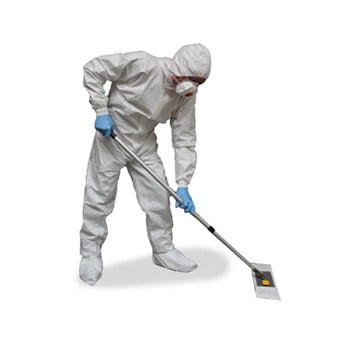 Cleanroom Flat Mop Head & Telescopic Handle
Whether in a cleanroom, laboratory, surgery room or any other critical application, our high quality folding cleanroom mop cleans floors, walls and other surfaces efficiently and is designed for ease of use. For efficient cleaning.
The mop head includes a high quality telescopic pole to allow adjustment for the user. Manufactured from strong and durable components, the system is designed with minimal crevices. Equipped with 2 grey plastic clips to enable a better grip and to avoid direct contact between the operator's hands and the aluminium.
The end of each handle is colour coded for specific areas to prevent cross contamination.
The flat mop system is best suited for cleaning Wall and Ceiling surfaces.
String mops are more suited to floor cleaning.
DON'T FORGET TO ORDER MATCHING MOP COVERS! CLICK HERE
FEATURES:
Sterile Mop covers available
Silver Aluminium Handle - 100cm to 180cm (longer reach available)
Head is lightweight and durable
Mop head is Autoclavable
Mop head collapses to fit renewable mop covers
HANDLE OPTIONS:
The standard handle that is supplied with this mop is telescopic and adjusts between 100cm to 180cm
We also offer a option for a high quality telescopic handle (suitable for higher sealings and walls) Extended length is approximately 275cm.
We can supply longer telescopic lengths on request - please enquire.