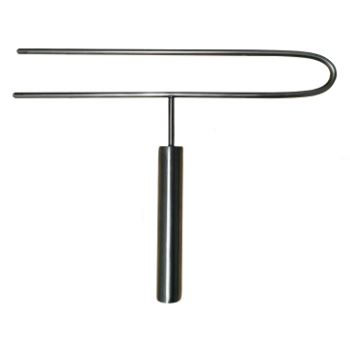 CLEANROOM STRIP CURTAIN CLEANER HANDLE
A cleanroom curtain cleaner for cleaning strip curtains in cleanrooms and support areas. The simple design allows you to clean both sides of the curtain at the same time. Can also be used with soft wall enclosures. The standard handle is 150mm long. We can provide handle extenders to suit your needs. Please enquire if you requrie a longer reach.
The covers can be laundered and reused, and will hold up to alcohol, strong disinfectants and steam sterilisation. Each cover is formed from an inner layer and an outer layer - the inner layer is polyester foam, and the outer layer is 100% polyester, in a waffle weave texture.
Using the curtain cleaner, grip the curtain at its uppermost connection, and slide down to apply, or squeegee, the cleaning agent on both sides of the curtain.

FEATURES:
High quality, 304 Grade Stainless Steel handle - Standard Handle is approximatley 15cm long.
Specifically designed for cleanrooms and controlled environments.
Suits Berkshire Polyester/foam slip-on cover with steel stud fasteners.
304 Grade Stainless Steel extender pole adds 150cm to mop handle length (see below image)