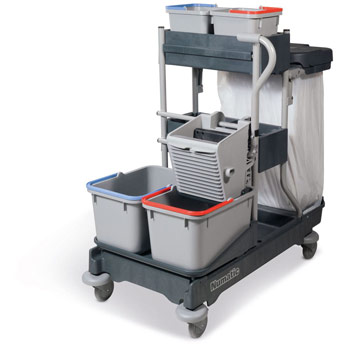 Twin Bucket String Mop Trolley
The Cleanroom Twin Bucket flat mop is ideal for those who want a mopping system that is optimised for use with Micro-Fibre or Knitted Polyester "String" type mops.
If you prefer the Flat Mop type system CLICK HERE
The trolley is supplied with two easy to remove buckets, this allows you to keep dirty water separate from clean water. The blue handle bucket for clean water is 22 Litre and the Red handle bucket is 22 Litres in capacity. The wringer efficiently squeezes the mop head and excess `dirty' water falls into ther red bucket.
Built around a durable modular system, the Mopping Trolley can easily be customised to suit your needs, or adapted to meet new demands.
FEATURES
Trolley Dimensions: 1090mm (L) x 570mm (W) x 1115mm (H)
22 Litre Blue handle bucket for clean water and 22 Litre Red handle bucket for dirty water
Includes 2 x 6 Litre rear buckets and rear waste bin (120 Litre bags supplied separately)
4 x 100mm Castors
Includes High Quality String Mop Press