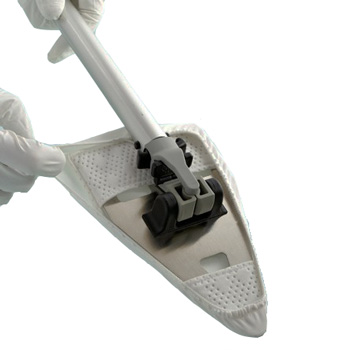 CLEANROOM ISOLATOR CLEANING TOOL - STERILE MOP COVERS
Efficient cleaning of compounding isolators, biological safety cabinets, laminar flow hoods and other mini environments that are critical to the quality and purity of compounded products.
Each pack contains easy to use laundered polyester knit covers. The padded knit cover (provided with each pack) and rounded edges of the mop head ensure the tool does not scratch or damage surfaces.
A pack of replacement isolator tool mop covers includes 10 x Sterile elasticated tool and 1 x Sterile quilted tool protector pad.
Mop covers are Gamma Irradiated for immediate sterile cleanroom use.
FEATURES:
Elastic Isolator Cleaning Tool Covers
Made from Berkshire's Super Polx® 1200 continuous filament polyester wiping material.
Laundered and packaged in an ISO Class 4 (Class 10) cleanroom for superior fibre, particle and residue performance.
Stretch fabric and elastic edge allow easy installation and secure fit on the mop head.
Recommended for use with the Padded Cover.
Absorbent knit is abrasion resistant and durable to a wide range of cleaning solutions.
Autoclavable. (Non-sterile veriosn are avaiable - please ask)
Padded Isolator Cleaning Tool Covers
100% continuous filament knitted padded covers are laundered and packaged in an ISO Class 4 (Class 10) clean-room.
Recommended for use with the Elastic Cover.
Foam-free cushioned design insures even surface coverage with reduced residues and contaminants.
Easy-to-install covers fit securely and stay in place during use
Autoclavable.