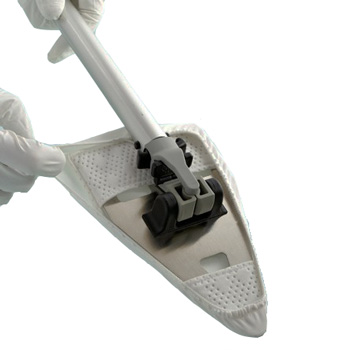 CLEANROOM ISOLATOR CLEANING TOOL – NON-STERILE PADDED MOP COVERS
Efficient cleaning of compounding isolators, biological safety cabinets, laminar flow hoods and other mini environments that are critical to the quality and purity of compounded products.
Each pack contains 25 x Non-sterile easy to use padded tool covers. The padded knit cover and rounded edges of the mop head ensure the tool does not scratch or damage surfaces.
Mop covers can be Gamma Irradiated but are supplied non-sterile. Covers are autoclavable.
FEATURES:
Padded Isolator Cleaning Tool Covers
100% continuous filament knitted padded covers are laundered and packaged in an ISO Class 4 (Class 10) clean-room.
Foam-free cushioned design insures even surface coverage with reduced residues and contaminants.
Easy-to-install covers fit securely and stay in place during use
Autoclavable.