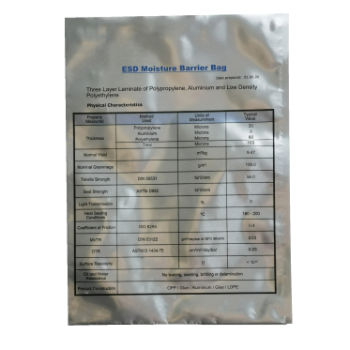 ESD Moisture Barrier Bags
A triple layer barrier film with antistatic properties on the inner and outer layers, suitable for products that require excellent protection against oxygen, light, moisture, water and aroma, as well as providing ESD protection. Useful for keeping electronic components dry and storing static sensitive devices in humid environments. The material is ideally suited to flexographic printing.
100µm thickness and available in 3 sizes. Packs of 100.
FEATURES:
Triple layer barrier film
Antistatic and ESD
Protects against oxygen, light, moisture, water and aroma
Suitable for flexographic printing
100 µm thickness
Packs of 100 bags
SIZES:
L 215mm (Int. 205mm) x W 150mm (Int. 130mm)
L 300mm (Int. 290mm) x W 215mm (Int. 195mm)
L 425mm (Int. 415mm) x W 300mm (Int. 280mm)
We can manufacture bags to your bespoke requirements - please contact us for a quote. (Minimum order quantities apply)