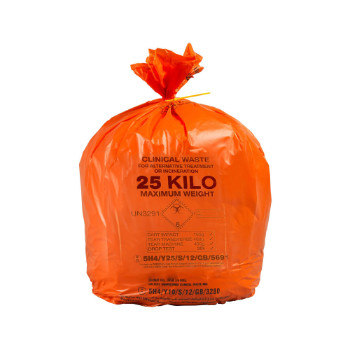 Bulk Carriage Clinical Waste Bags
For bulk transportation of infectious waste which is to be taken for incineration or sent for alternative treatment. UN approved for 25Kg and ADR approved for carriage in bulk. Supplied in rolls to fit dispensers.
These bags are required as stated in the European Agreement concerning the International Carriage of Dangerous Goods by Road. Bulk carriage bags enable the transportation of dangerous goods without the use of rigid outer containers in appropriately equipped vehicles.
These bags are not suitable for non-infectious waste, anatomical waste, placental waste, cytotoxic/cytostatic waste or domestic waste.
Bag Dimensions: 725 x 980mm
Maximum Weight (UN Approved): 25Kg
Thickness: 50mu
Volume: 90L
Case Quantity: 100 (10 x 10)