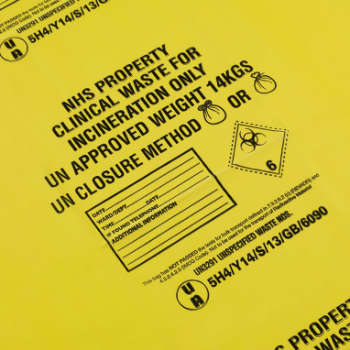 Mattress Bags
Heavy duty clear and colour coded mattress bags for the protection of new or freshly laundered mattresses prior to use, and for the handling, storage and transportation of soiled and infected mattresses to laundry, treatment and incineration facilities.
Bags are designed to fully enclose all standard mattress sizes. Once the mattress is inserted, the end can be secured using cable ties or adhesive tape. Heat sealed end seams increase durability. Suitable for incineration. Available in yellow, orange and clear.
Coloured bags (yellow or orange) are printed with UN approved markings required for clinical waste bags for this type and include a write-on panel for adding tracking and tracing information. Fully compliant with RID/ADR directives for the carriage of waste in bulk. Each bag can hold up to 25Kg and be transported safely without the need for rigid outer containers, to eliminate extra costs.
Yellow bags are for incineration, and orange area for alternative treatment. Clear bags are unprinted and intended for storage and protection of mattresses.
Specifications:
Orange bags for alternative treatment: 940 x 1140 x 2500mm, 75mu, UN Approved 14Kg
Yellow bags for alternative treatment: 940 x 1140 x 2500mm, 75mu, UN Approved 14Kg
Clear heavy duty bags (unprinted): 945 x 1160 x 2500mm, 90mu