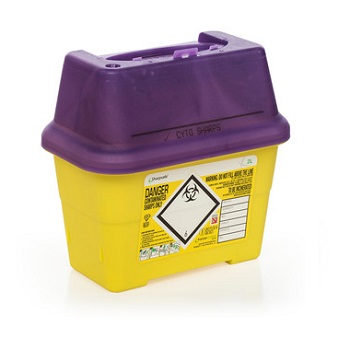 Cytotoxic Sharps & Hazardous Waste Disposal Bins
Cytotoxic or cytostatic Sharps & Hazardous Waste Disposal Bin, for safe disposal of sharp or hazardous waste. Strong, secure bins ideal for use in cleanroom, laboratory, medical facilities, wash rooms or wherever needles/sharps must be disposed of safely. Rigid polypropylene cases are puncture and fluid resistant. Each bin is autoclavable and can be safely incinerated.
FOR COLLECTION SERVICES CONTACT US.
LID COLOUR : PURPLE
Many other sizes are available along with ancillary items - please ask and we will bew more than happy to advise and source.