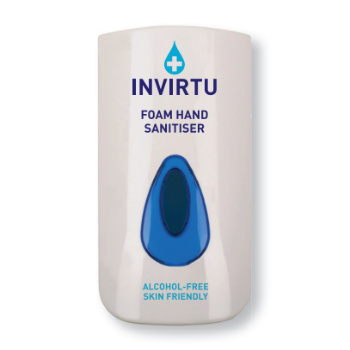 Dispenser for Byotrol INVIRTU Hand Sanitising Foam
Please note that this item can only be purcashed along with a minimum of 2 cases of refill : CLICK HERE TO BUY REFILLS
This wall-mounted, pump-action dispenser is for use with the 800ml hand foam sanitiser refill pouch. The foam helps increase hand hygiene compliance, creates a healthier workplace and strengthens brand reputation. It is an alcohol-free formulation, providing safe and effective hand sanitation. It is colour and fragrance-free, non-flammable and safe to use, helping to reduce risk in the workplace. It also does not irritate the skin, or pose other risks associated with alcohol based hand sanitisers.
Formulated to kill 99.99% of common germs and viruses, including Influenza A (H1N1, Swine Flu), MRSA, Rotavirus and E. coli. this foam hand sanitiser continues to provide protection between hand washing through its prolonged
antimicrobial effect. It is ideal for individuals who have developed skin irritation and occupational dermatitis, and healthcare settings where alcohol-free sanitisers are recommended. This includes mental health, elderly care, alcohol dependent settings and sterile manufacturing facilities.
NHS Approved