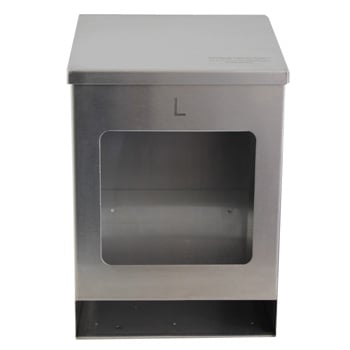 Coverall & Lab Coat Dispenser - Large Viewing Panel
Our wall mounted coverall & lab coat dispenser is manufactured from quality 304 stainless steel and comes complete with pre-drilled mounting holes. Incorporates large viewing panel in front to provide visual indication of when to top up dispenser. Comes without lip at the bottom of the dispenser
Our dispensers are also available in higher grade 316 grade stainless steel. Why not watch our stainless steel selection video?
FEATURES:
Grade 304 Stainless Steel
Viewing Panel
Quality Manufacturer
Long Lasting & Hygienic
No Lip to Snag Garment as Removed
Dispenser can be etched with Garment Size (optional extra)
Size = 20cm x 30cm x 46cm
Bespoke sizes available - Please Contact Us
DELIVERY:
Due to the Special Delivery and packing requirements for these items, Free Delivery is not available See terms
Please note that because this a bespoke item, the lead time can vary. Usually, the lead time will be 5-7 working days from approval of the technical drawing, but during busy periods manufacturing can take longer. Please contact us to confirm the lead time for your specific order.