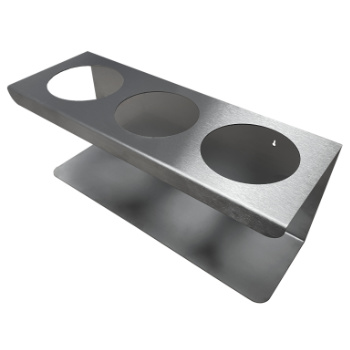 Stainless Steel Triple Bottle Holder
Manufactured from 304 grade stainless steel. Storage for 500ml and 1L trigger bottles. Suitable for use with ceanroom rotational disinfectants. The triple design allows IPA, biocide and neutral detergent to be stored together, so that all 3 are easily accessible when required.
Easy to clean and provided with 4x pre-drilled keyholes on the rear to aid in wall-mounting. A flat underside also allows for easy desk-mounting if preferred.
Suitable for all standards of cleanroom.
FEATURES:
Holds up to 3 x 500ml or 1L trigger spray bottles
3 x 90mm Diameter Holes
Total Dimensions: 350mm W x 130mm D x 150mm H
4x Pre-drilled Holes for Wall-Mounting
Brushed Stainless Steel, 304 Grade
Suitable for cleanroom rotational disinfection