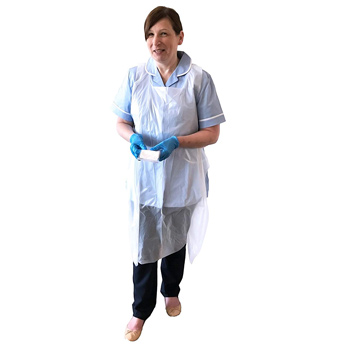 Biodegradable Plastic Apron - Rolls
EXISTING CUSTOMERS PLEASE NOTE: Due to the current Coronavirus issues, although our website shows this item as OUT OF STOCK – we do have a large stock that we are reserving for existing customers only. We are simply limiting orders being placed through our website.
Existing customers please email us your requirements and we will fulfil your orders as long as they reflect your previous ordering pattern history. Email: [email protected]uppliesltd.com
NEW CUSTOMERS PLEASE NOTE: We are prioritising fulfillment of orders to our large number of existing customers. You may still place your orders online, however we may contact you to discuss your requirements and availability.
Biodegradable aprons are adjustable to fit all shapes and builds. Supplied on rolls for easy dispensing. These aprons are for use in all departments and medical specialisations including nursing, midwifery, infection control, domestic, paediatric and theatre. Available in 7 colours.
FEATURES:
Rolls of 200 biodegradabe aprons
Aprons are packed in biodegradable sleeves
CE Certified
18 - 36 months to commence break down
Available in 7 colours