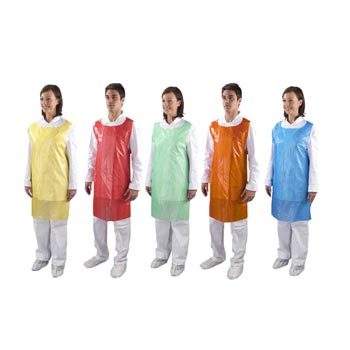 Disposable Plastic Apron - Rolls
EXISTING CUSTOMERS PLEASE NOTE: Due to the current Coronavirus issues, although our website shows this item as OUT OF STOCK – we do have a large stock that we are reserving for existing customers only. We are simply limiting orders being placed through our website.
Existing customers please email us your requirements and we will fulfil your orders as long as they reflect your previous ordering pattern history. Email: [email protected]
NEW CUSTOMERS PLEASE NOTE: We are prioritising fulfillment of orders to our large number of existing customers. You may still place your orders online, however we may contact you to discuss your requirements and availability.
Our range of medium duty aprons are available in a wide range of colours, and will ensure a high level of hygiene for many industries. Make contamination control simple by colour coded use.
These aprons are packed perforated on a roll, and are available in 7 different colours (see below).
FEATURES:
42" (107cm) in Length
15 Micron Thickness Guage
Packaged in Rolls of 200 Aprons
Available in Orange, Pink, Yellow, Green, Red, White and Blue