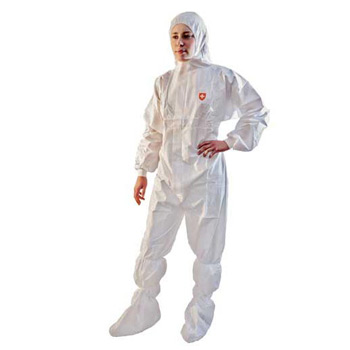 OPTIMUM™ Type 5 & 6 Coveralls
A serious alternative - at a fraction of the cost.
OPTIMUM Type 5 & 6 coveralls are a superior quality garment manufactured from breathable liquid resistant microporous material.The material allows the skin to breathe whilst resisting the penetration of many different non-hazardous liquids and particles. The material is strong and our garment offers knitted cuffs for a more comfortable fit. Typical applications include laboratory, clean rooms, pharmaceutical, food processing, forensic science, medical and paint spray.
For full details download the Techincal Data Sheet.
Microporous Overboots can be purchased separately
Click on the Video tab to see just how effective Optimum coveralls really are.
Features:
Type 5 & 6 Certified Category III
Anti-Static to EN 1149-5
Barrier to Radioactive Particles - Class 1
Barrier to Infective Agents - EN 14126
Low Lint Microporous Material & Breathable Fabric
Comfortable Knitted Cuffs & Self-Adhesive Flap Over Zip
Cleanroom Supplies Optimum disposable coveralls are designed to protect against light mist spray. However, this video demonstrates just how effective our Type 5&6 and Type 4 coveralls are when subjected to this extreme test!
See how well the coveralls perform in this video:
Sheila

On your recommendation we tried your own coveralls as our usual ones were not in stock, they are brilliant in fact we think they are of better quality and great value for money. Thank you!

5

/

5
Joy

Hi, we ordered some of your Optimum Coveralls last week which arrived promptly. Our guys have tried them today and the unanimous verdict is that they are an improvement on the Tyveks that we were using previously. They prefer not only the feel of the material but also the cuffed sleeves. We will be ordering from you in future. Thank you.

5

/

5
Lee

Hi John. Thank you very much for your Optimum Coverall samples..., we prefer them to the Tyvek ones we have been using. I'll work out some sizes needed and get back to you, hopefully tomorrow.

5

/

5