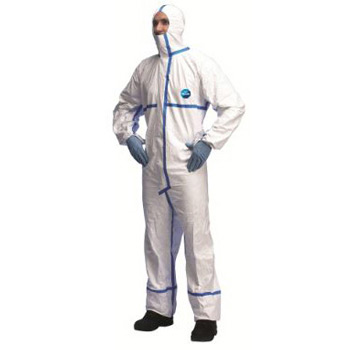 Tyvek Classic PLUS Type 4, 5 & 6 Coveralls
DuPont™ Tyvek® Classic Plus gives you a combination of the performance of a Type 4 coverall with the durability, protection and comfort of a Tyvek® suit. Classic Plus is made of Tyvek®, but the coveralls offer the added benefit of protective design features and over taped seams. They provide an effective barrier against many inorganic chemicals in low concentration and particles larger than 1.0µm. These coveralls are ideal for occupations that require effective whole suit protection offered by a Type 4 suit because they are exposed to heavy liquid aerosols as well as airborne solid particulates. Typical applications include laboratory, clean room, pharmaceutical, food processing, forensic science, medical and paint spray.
Type 4 suits provide better protection against virus contamination.
OVERBOOTS can be purchased separately
FEATURES:
Type 4, 5 & 6 Certified Category III
Anti-Static to EN 1149-5
Barrier to Radioactive Particles - Class 1
Barrier to Infective Agents - EN 14126
Lint Free Microporous Material
Breathable Fabric
Self-Adhesive Storm Flap Over Zip