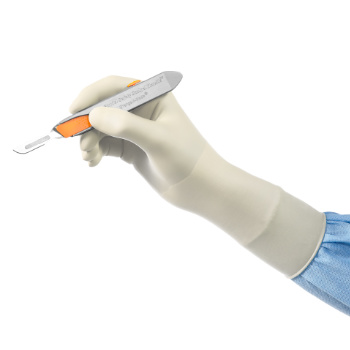 Ansell Encore Sterile Latex Gloves
ENCORE® gloves are designed and engineered for surgeons, OR nurses and surgical technicians seeking protection and safety with advanced levels of ergonomics, dexterity and comfort during surgery. ENCORE® gloves afford the kind of hand protection that elevates users' confidence and provide optimum comfort during surgery.
The Encore® Style 85 has been designed to meet the needs of users who want a glove with a rough surface for the sure handling of instruments, with maximum comfort and safety levels. Offering Ansell's SureFit™ technology to prevent cuff roll-down, this glove provides healthcare professionals with superior barrier protection.
This securing glove features polyurethane inner coating resistant to alcohol-based hand disinfectants, adding another layer of safety between the skin and the latex. Moreover, ENCORE® Style 85 has a very low protein content (30 μg/g or less of water/extractable protein per gram) and its specific latex formulation with reduced use of chemical accelerators minimises the risk of skin irritation.
Manufactured in compliance with EN455, EN374, EN420 and EN556.
FEATURES:
Textured, Chlorinated Finish
Ergonomically Designed for Comfort
Advanced Dexterity
PU (Polyurethane) Inner Coating Resistant to Alcohol-Based Disinfectants
Low Protein Content for Minimal Skin Irritation
Natural Latex
Powder-Free
Sterile
Boxes of 50 Pairs (100 Gloves)
3 Year Shelf Life