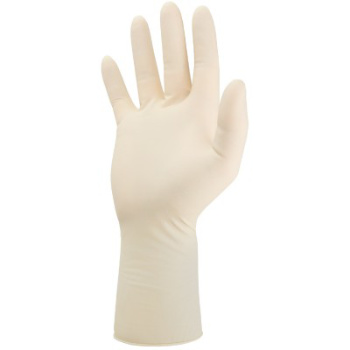 CHEMOTHERAPY and CYTOTOXIC RESISTANT NITRILE GLOVE - STERILE
Nitrile gloves suitable for use in chemotherapy and cytotoxic applications, with a combination of chemical resistance and high material purity. Free from latex, sulphur and accelerators they are a solution that guards the user against the main causes of contact dermatitis and natural rubber latex allergies.
It is well known that large numbers of clinical staff suffer from an adverse reaction to medical gloves. This is caused by compounds in the glove which react with the skin. Because clinical staff repeatedly wash their hands and/or apply alcohol gel, the natural oils in the skin are removed, leading to dry, cracked and sore hands. This makes them much more sensitive to irritant compounds in the glove.
The Ideal Glove for Chemotherapy and Cytotoxic Drug Resistance
It should be noted that drugs (and other chemicals) can permeate (go right through) an otherwise waterproof glove. This can lull clinicians into a false sense of security. In particular, most medical gloves have a very low resistance to the accidental spillage of cytotoxic chemotherapy drugs. This could pose a significant risk to clinical staff. This nitrile glove is different; its accelerator free formulation gives it remarkable resistance to the most aggressive chemotherapy drugs (including Carmustine and ThioTEPA). The gloves are proven to resist permeation by chemotherapy drugs under ASTM D6978-05, having been tested against a wide range of chemotherapy drugs - see our Technical Data Sheet for a complete list.
Excellent chemical resistance
These gloves have tear and chemical resistance in compliance with to EN ISO 374, as well as complying with EN 455 sections 1 to 4 for single use medical gloves.
FEATURES:
High chemotherapy drug resistance. Tested to ASTM D6978-05
High chemical resistance - protection against a wide range of hospital and laboratory chemicals
Better puncture resistance than latex and vinyl
Suitable for laboratory and PPE use
Lightweight construction - for high sensitivity
High stretch - for a high degree of comfort and fit
Very high durability - for tear and puncture resistance
Medium grip - suitable for multiple tasks – fingertip textured
Easy donning - for speed and convenience
Powder free - for hygiene and convenience
Latex free - no risk of natural rubber Latex Allergy
Colour - Blue
CERTIFICATIONS: