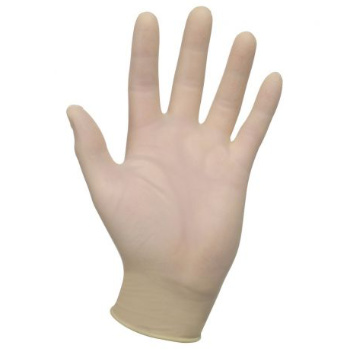 Sterile Latex Gloves
Sterile Latex Powder Free gloves for minimal risk applications. They offer superior protection while maintaining strength, sensitivity, and dexterity. The textured surface improves grip, and unlike some powder-free gloves, they are simple to put on. They have standard cuffs and are ambidextrous. Glove chlorination provides advantages such as easy glove donning and a significant reduction in the amount of extractable natural proteins present in the gloves. Absence of powder reduces the risk of powder-induced contamination.
Individually wrapped in pairs to allow for easy dispensing.
Allergy Warning: These gloves contain natural rubber latex, which may produce an allergic reaction in some individuals. If affected please discontinue use immediately and seek medical advice. Users with a known sensitivity to rubber or latex products should avoid contact.
Typical applications include medical, care homes, food processing, chemical processing, handling biohazards, laboratories and clean rooms.
FEATURES:
Ambidextrous design
Beaded Cuff
Micro Textured
Complies with EN 455, Parts 1, 2, 3 & 4
AQL 1.5
Smooth, Soft and Easy to Fit
Chlorinate, Powder-Free Natural Latex
Sterile and Bagged in Pairs
NOTE: Not recommended for use with corrosive liquids.
CERTIFICATION: