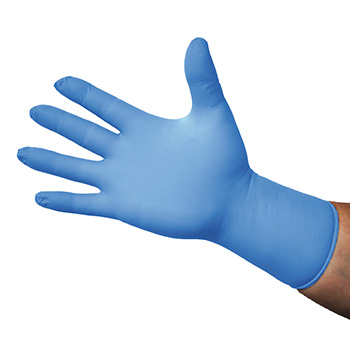 Extended Blue Nitrile Gloves - 30cm
A premium blue nitrile powder-free glove with an extended cuff for extra protection. Free from latex proteins, eliminating protein sensitisation. Manufactured from a soft elastic material, which feels cooler and is more comfortable and flexible to wear. A textured finish on the fingertips provides improved grip. Rolled cuff for additional strength and prevention of liquid roll back.
Cuff is 30cm long, measured from the fingertips.
FEATURES:
Blue nitrile
Free from latex proteins
Powder free
Rolled cuff
Textured fingertips
Soft comfortable material
Extended 30cm cuff for extra protection
CERTIFICATION:





RELATED PRODUCTS:
See also our Standard Extended Nitrile Gloves.