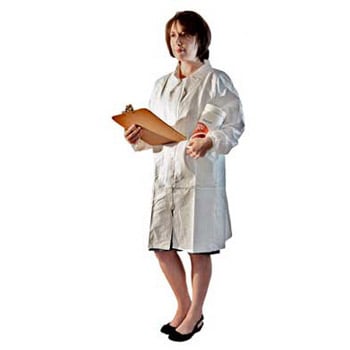 Disposable Laboratory Coat
PLEASE NOTE: Due to the current Coronavirus issues, we are limiting orders on this product.
Existing customers please email us your requirements and we allocate what we can in order to fulfil your orders as long as they reflect your previous ordering pattern history. Email: [email protected]
NEW CUSTOMERS PLEASE NOTE: We are prioritising fulfillment of orders to our large number of existing customers.
A superior quality garment manufactured from breathable liquid resistant microporous material. The material allows the skin to breathe whilst resisting the penetration of many different non hazardous liquids and particles.The material is strong and garments have a front zip. No pockets. Typical applications include laboratory, low classification clean room, pharmaceutical, food processing, packing areas and medical.
For full details download our Techincal Data Sheet
A serious alternative - at a fraction of the cost.
FEATURES:
Breathable Liquid Resistant Microporous Material
Resists Penetration of Non Hazardous Liquids and Particles
Comfortable Knitted Cuffs
Quality Zip
No Pockets
Lorie


I am very happy to let you know that your first order arrived on time, and the quality of your Optimum Protection Disposable Laboratory Coats is much better than I expected. I would like to have an account for 30 days credit invoice. It will be easier for us to place new orders. Looking forward for a great collaboration! Thank you!



5/5
Karen


The Lab Coats are gorgeous...thank you...they are that gorgeous I've put an order in for some more already!!!!



5/5
Helen


The feedback on the Lab Coats is very positive...much more comfortable and they like the knitted cuffs...not as hot to wear as the Tyvek.



5/5