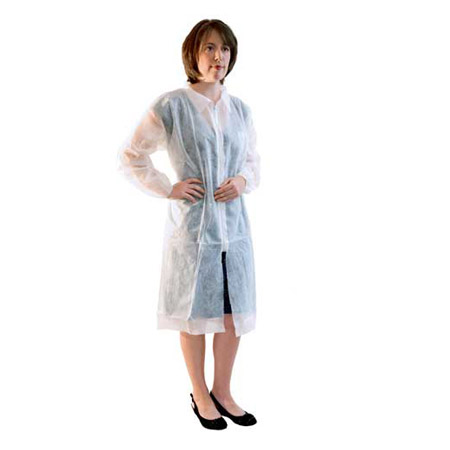 Disposable Visitors Coat - White
EXISTING CUSTOMERS PLEASE NOTE: Due to the current Coronavirus issues, although our website shows this item as OUT OF STOCK – we do have a large stock that we are reserving for existing customers only. We are simply limiting orders being placed through our website.
Existing customers please email us your requirements and we will fulfil your orders as long as they reflect your previous ordering pattern history. Email: [email protected]
NEW CUSTOMERS PLEASE NOTE: We are prioritising fulfillment of orders to our large number of existing customers. You may still place your orders online, however we may contact you to discuss your requirements and availability.
Manufactured from 45g spunbond polypropylene. This is strong, durable material offering basic protection. The garments are slightly transparent. For Full details download the Technical Data Sheet
FEATURES:
Collar
Strong, durable Fabric.
Velcro Fastening
No Pockets
Generous Cut for comfort
Also available in Blue
Available in Cartons of 50 Garments