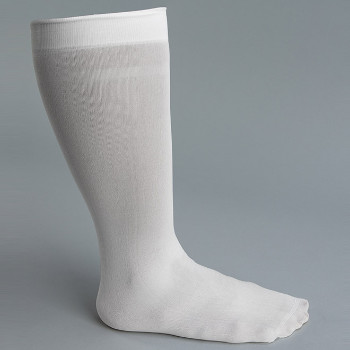 Cleanroom Socks
These Cleanroom Socks are made of continuous filament polyester yarn, and are laundered and packaged in a Class 5 cleanroom to minimize bioburden levels and reduce particulate contamination in critical environments. The mid-calf length and elastic cuff result in a comfortable secure fit for extended wear. A cost effective, clean and disposable alternative to operators' own socks, being over 1000 times cleaner than regular polyester or cotton socks.
Autoclavable up to 121ºC for 30 minutes.
Meets the requirements of EU GMP Annex 1 section 7.15.
Berkshire code: CHSOCKR1050
FEATURES
98% Continuous filament polyester, 2% spandex
One size, fits adult shoe size 5 -11
Mid-calf length with elastic cuff for secure fit
Soft and comfortable
Laundered and packaged in a ISO Class 5 cleanroom
Color: White
10 pairs per pack
Autoclavable up to 121ºC for 30 minutes