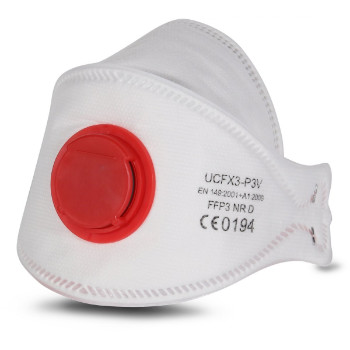 FFP3 Fold Flat Dust Masks (VALVED) - Box of 10
Category: High Efficiency (non-sterile)
This mask can be used as personal protective equipment (PPE) to EN149:2001 + A1:2009, and is suitable for protection against hazardous toxic dust. These masks also offer protection against water and oil based fumes. Exhalation valves help to reduce heat and condensation build up in the mask. The FFP3 is available in valved version only.
These masks are lightweight and comfortable with a soft foam nose seal, and adjustable nose clip that molds to the user's face to enhance compatibility with eyewear and reduce fogging.
Due to current demand, the masks may vary slightly from the image on our website.
For full details download the Technical Data Sheet
Click the Video tab to see how to fit masks correctly
FEATURES:
Mouldable Contoured fit Nose Bridge
10 Mask per case
Soft Foam Nose Closure
Adjustable Elastic Straps
Comfort Face Seat
Comfortable Valve