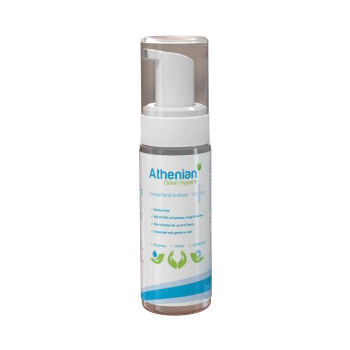 ATHENIAN Sanitising Mousse
Athenian® hand sanitising foam is an alcohol-free formulation, providing safe and effective hand sanitation. It does not irritate the skin, or pose other risks associated with alcohol based hand sanitisers.
Athenian® kills 99.99% of bacteria, fungi and viruses, and starts working in less than 60 seconds. It is ideal for individuals who have developed skin irritation and occupational dermatitis, and healthcare settings where alcohol-free sanitisers are recommended. This includes mental health, elderly care, alcohol dependent settings and sterile manufacturing facilities.
NHS Approved
FEATURES:
Alcohol and Paraben Free
Fragrance Free
Doesn't leave residue
Doesn't dry out skin
Non-flammable
Non-irritating
Conforms to EN 1500, EN 1276, EN 14476 & EN 1650
PRICES:
1 x 200 ml: £3.98