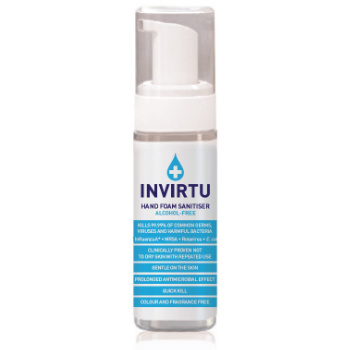 Byotrol INVIRTU Sanitising Foam
Byotrol INVIRTU hand sanitising foam is an alcohol-free formulation, providing safe and effective hand sanitation. It does not irritate the skin, or pose other risks associated with alcohol based hand sanitisers.
Byotrol kills 99.99% of bacteria, fungi and viruses, and starts working in less than 60 seconds. It is ideal for individuals who have developed skin irritation and occupational dermatitis, and healthcare settings where alcohol-free sanitisers are recommended. This includes mental health, elderly care, alcohol dependent settings and sterile manufacturing facilities.
Formulated to kill 99.99% of common germs and viruses, including Influenza A (H1N1, Swine Flu), MRSA, Rotavirus and E. coli. Byotrol Invirtu Hand Foam Sanitiser continues to provide protection between hand washing through its prolonged antimicrobial effect.
The 50ml personal bottle is easy to carry around on your person, encouraging good hand hygiene practice in order to prevent the spread of infection.
FEATURES:
Alcohol and Paraben Free
Fragrance Free
Doesn't leave residue
Doesn't dry out skin
Non-flammable
Non-irritating
Conforms to EN 1500, EN 13727, EN 1276, EN 13624, EN 14476 & EN 1650