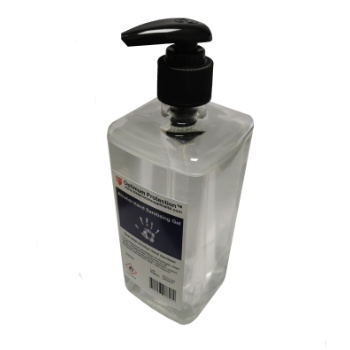 Professional Hand Sanitising Gel - 500ml
Due to the world shortage of hand sanitiser bottles as a result of COVID-19, the actual bottle design may vary from the image above. If this is important to you, please contact us for more information.
This professional hand sanitising gel provides anti-bacterial effectiveness for hygienic disinfection of physically clean hands. 500ml pump bottle of 72% alcohol (62% Denatured Ethanol and 10% Isopropanol) moisturising hand sanitising gel contains added glycerine to leave hands soft and moisturised. Complies with UK government requirements for infection control programmes in Hospitals, Nursing Homes, Emergency Services, Food Area, Schools Nurseries, etc.
To use, make sure hand are visibly clean and dry. Use at least half a teaspoon of gel (approx 3ml) in the palm of the hand. Rub vigorously over palms, between fingers and back of hands, ensuring complete coverage, until dry. Repeat if necessary. Do not rinse.
Conforms to BS EN 1500:1997 - Chemical disinfectants and antiseptics. Hygienic handrub.
Unscented.
Tara Gerrard


I recently bought hand sanitiser for the business I work for to distribute to employees while working from home. Cleanroom Supplies promptly replied to all my queries and dispatched the products within a swift timeframe. We found the hand sanitiser to be of excellent size and value. I and the business 100% recommend Cleanroom Supplies!



5/5

Cleanroom Supplies

Thank you so much for taking the time to write your review Tara. We are pleased we fulfilled your expectations on this order, and we value your business. Much appreciated. Mike.