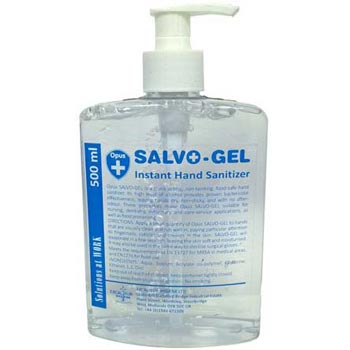 Hand Sanitising Gel
SALVO-GEL alcohol based gel provides proven ant-bacterial effectiveness. 500ml pump bottle 70% Ethanol moisturising alcohol hand gel contains added glycerine to leave hands soft and moisturised. 70% Alcohol hand gels are proven aids in anti-bacterial and cross infection control programmes in Hospitals, Nursing Homes, Emergency Services, Food Area, Schools Nurseries, etc.
Independent laboratory tests on SALVO-GEL alcohol-based gel prove 99.9999% kill of gram positive and gram negative bacteria: Staphylococcus Aureus ATCC 6538, Escherichia coli ATCC 10536 after a contact time of 5 minutes.
SALVO-GEL may also be used to sterilise surgical gloves
SALVO-GEL hand sanitiser complies with EU Approval EN1276 for use against Pseudomonas Aeruginosa, Escherichia Coli, Staphylococcus Aureus, Enterococcus Hirae in food applications, and EN13727 for effective use against MRSA, Salmonella Typhinurium, Listeria Monocytogenes in medical areas.
Not tested on animals
DELIVERY:
AVAILABLE FOR FREE UK NEXT DAY DELIVERY See terms
PRICE:
500 ml Bottle: £ 4.95