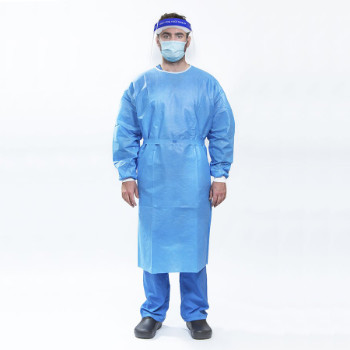 Disposable SMS Isolation Gown
Single-use, SMS isolation gown for protection against bodily fluids, micro-organisms and contaminated solids. 100% latex-free and suitable for surgical procedures with low-to-medium fluid exposure. The 40gsm SMS material is liquid repellant, breathable and low-linting. Cuffs are manufactured from knitted polyester for maximum comfort. A velcro neck fastening further increases protection and the waist belt can be tied around the back to provide an improved fit.
These gowns are tested to EN13795 (Surgical Clothing and Drapes), and CE certified as a Class I medical device.
This product is non-sterile, for the sterile version, click here.
Sold in packs of 10 or cartons of 100 (10 packs x 10).
FEATURES:
40gsm SMS Material (100% Polypropylene)
Tested to EN13795 (Surgical Clothing and Drapes)
CE Certified as a Class I Medical Device
Non-Sterile
Single-Use
Knitted Polyester Cuffs
Low-to-Medium Level Fluid Protection
Latex-Free
Liquid repellant, breathable and low linting
Velcro Neck Fastening
Waist Belt for Improved Fit
Case of 100 gowns
Sterile Garment Shelf Life = 3 Years