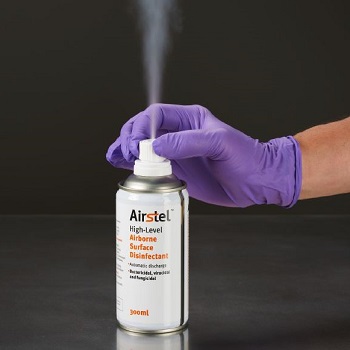 Airstel Aerosol Disinfection Fogger – Room Sanitiser
Airstel is a single-shot ready-to-use disinfectant designed for the bactericidal, mycobactericidal, fungicidal and virucidal disinfection of inaccessible surfaces. Its unique formulation incorporates a natural cinnamon oil extract which is especially effective against Aspergillus brasiliensis. Airstel is intended to be used for terminal disinfection, following contact surface disinfection, to ensure airborne microorganisms are eliminated.
Effective against enveloped viruses. READ OUR BLOG HERE ON ENVELOPED VIRUSES LIKE CORONAVIRUS (COVID-19)
MICROBIOLOGICAL EFFICACY:
Airstel is proven effective against microorganism such as:
Staphylococcus aureus
Pseudomonas aeruginosa
Influenza A virus (H1N1)
Candida albicans
Escherichia coli
Mycobacterium avium
Mycobacterium terrae

Available in two size of canister - 50ml and 300ml
Place the bottle on an even surface and leave the room. Airstel forms a cloud that covers approximately 40m³ in 1 minute (50ml bottle) and 150m³ in 3 minutes (300ml bottle).
Ventilate and allow a period of one hour before re-entering the premises.
See User Instructions in Technical Tab