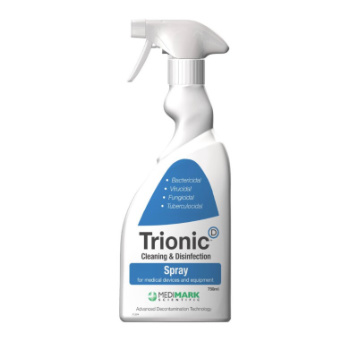 Byotrol Trionic Quaternary Ammonium Spray
A non-alcohol formulation for the decontamination of medical devices and equipment, cleaning surfaces (including the removal of bio-film), and then disinfecting with broad spectrum biocidal efficacy.
The ready-to-use spray is ideal for quick cleaning and disinfection of the surfaces of medical devices in clinical and other human health environments, as well as for use in cleanrooms and laboratories.
The disinfectant kills bacteria, fungi, yeasts, viruses and mycobacteria, and has been tested to be effective under a number of microbiological test conditions. For a full list, see our technical data sheet.
Note: This product has been discontinued by the manufacturer. We do have a small amount of stock available, so please contact us to check quantities before placing an order.
FEATURES:
Alcohol-Free
Quat-Based Biocide
Cleans and Disinfects
Ready to Use (RTU)